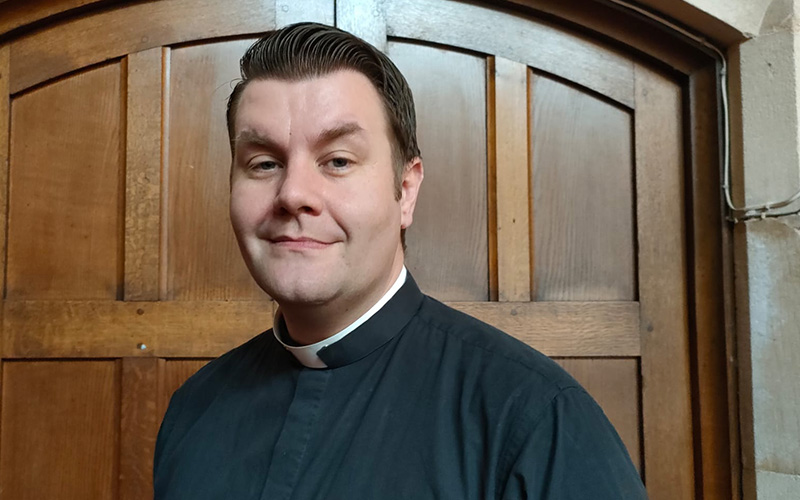 Raised in the New Forest, Hampshire, The Revd. Patrick Webb trained as an A-level tutor of Sociology before becoming the Youth Leader of his family church in Lyndhurst. Patrick and Verity-Rose married in this same church in 2009.
Patrick continued working and training at Moorlands Bible College on the south coast before he and his wife moved with their new baby, Melody-Rose, to St Luke's church in Grayshott, Surrey where Patrick was employed as Senior Youth Worker.
In 2017 the family, which by then included Reuben, born in 2015, moved to Oxford where Patrick embarked on training at Wycliffe Hall. Patrick subsequently joined the Benefice of Bleadon and Bournville in Weston-Super-Mare as Assistant Curate. During this time Verity gave birth to Talitha-Rose in 2020 (a high point in lockdown!) and the family became five!
Whilst serving Bleadon and Bournville Patrick engaged in many differing ministries, including hospital chaplaincy at Weston hospital, chaplaincy at Weston college and acting as Chaplain for Thatcher's Cider (albeit informally).
Patrick says: "I have always wanted to be where people are. I want to go where Jesus would go and talk with the people Jesus would talk with. Although I doubt Jesus would be as dependent on coffee as I am! Talking and listening is something I think I have learnt best as a Christian, but conversations that lead to Christ are what I endeavour to achieve, and I look forward to creating opportunities for those conversations on the Parks and Walcot estates.
Having served three and a bit years on one of Weston-Super-Mare's most deprived estates I know we need to start looking at the opportunities within our estates, rather than continually focussing on the problems. I see streets ready to flourish and respond to God's word and the love we can give as a house of prayer in our neighbourhoods."
Verity-Rose is a breastfeeding counsellor for the charity La Leche League . She is also a Scout leader and loves to dance.
The couple have three children, Melody, Reuben and Talitha.
"As a family we are looking forward to establishing ourselves on the estates, making new friends and welcoming people into the churches!
Therefore if you have any encouragement from being united with Christ, if any comfort from his love, if any common sharing in the Spirit, if any tenderness and compassion, 2 then make my joy complete by being like-minded, having the same love, being one in spirit and of one mind. Philippians 2:1-2
Joy is mentioned 16 times in Philippians. I am looking forward to finding joy on the estates. Not a shallow or fleeting joy, not a joy that can be bought or worked for, but a quiet and heartfelt joy at knowing we are one people redeemed by God.
Joy we seek. Joy He gives. Joy we receive".
Speaking about Patch's appointment, Bishop Viv says, "I am delighted that Patrick will be joining the Diocese of Bristol as this exciting time. The Parish wrote in their profile that they were looking for someone to encourage them in their faith and to help them to build the kingdom of God in Parks and Walcot. I am confident that Patrick fits this description and I look forward to all that he will bring."