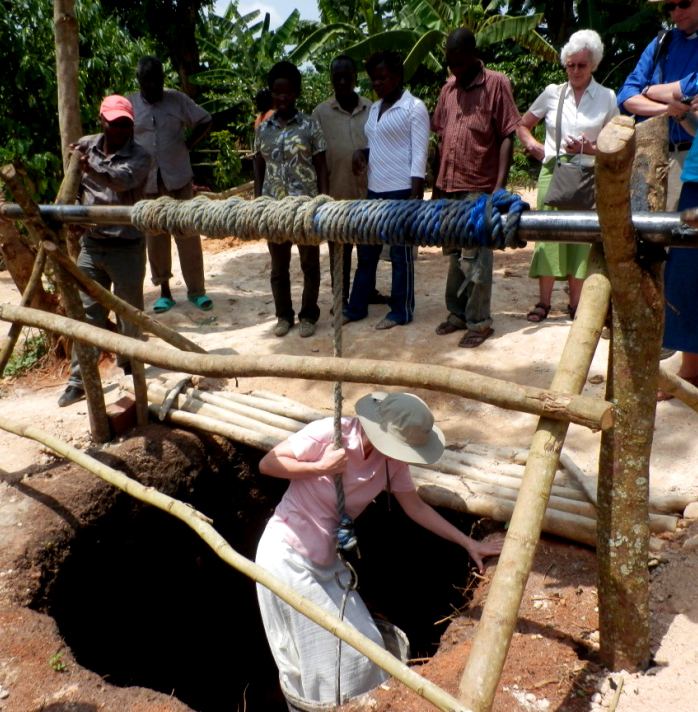 A team of 12 people from St John's, Haydon Wick visited Uganda in 2013. This is their story.
The lifeblood of good diocesan links is mutual visits between our two countries.
It is through visits that we walk together, build friendships, share experience, learn new skills and are energised for our shared task of building God's kingdom where we are.
Goodbye winter!
One icy February morning, we were doing our best to keep warm, while waiting for the coach which would take us to Heathrow.
Twenty-four hours later we were awakened, not by an alarm clock, but by the sound of the muezzin calling the faithful to prayer from the local mosque. We soon found ourselves sitting in warm sunshine, eating breakfast on a veranda, with cranes flying overhead, looking at trees whose names we didnt know, and getting our first view of the city of Kampala.
Problem free travel
The first thing to stress is how incredibly easy the whole process was. The Diocese has accumulated a wealth of experience in travelling to and from Uganda. As soon as we got out of the airport, we were picked up by a minibus and taken to our guest-house.
Those same mini buses were available to us wherever and whenever we wanted to travel - not only within the city of Kampala, but hundreds of miles away. Whether we wanted to go to a local bank, or enjoy the sight of herd of elephants in a National Park, the same minibuses were always there to transport us.
Any anxieties members of the group had previously had about safety or security quickly melted away.

Long-term relationships
For many of us, this was about meeting old friends. Bishop Evans Kisekka of Luweero and his wife Robinah visited Swindon in 1998 while in England for the Lambeth conference.
They stayed in the parish of St Johns Haydon Wick for ten days, forming a relationship with that congregation which has endured for sixteen years, and is still going strong.
Is this about money?
Finance is always an issue in Uganda. In that way, it is quite similar to the diocese of Bristol.
To begin with we saw our main role as providing money, principally to build a school. Parents and local contractors provided the labour. It was therefore a real joy to come through the jungle and see hundreds of children being educated there. This was a genuine investment in the future of Uganda.
Back in 1998 some of us may perhaps have seen our partnership with Uganda as a one-way street. So much money was so desperately needed and if we could provide it, then we should.

This is about people
But now the whole idea of partnership is the key theme. For example, we are looking forward in October 2014 to the visit of the headteacher of that same school. She will be embedded in a local church school here in Swindon. My guess is that the children there will remember her for a long time.
Yes - the landscape is glorious. Who can ever forget seeing a lioness and three cubs a mere twenty yards away? Or seeing the red roads of Uganda from an aeroplane?
But its the people we will remember most.
The Reception 1 children learning to play Round and round the garden like a teddy bear;

The theatrical talent of our guide, Godfrey;

The spontaneous worship in Kiwokko hospital;

Playing cards with the staff at the Luweero guesthouse;

Being given enough fruit after one service in a small church to fill a small grocers shop;

One of our party going to the very bottom of a well to meet the men digging it out.
All so far away - and yet so incredibly near at hand.
Authors
Chris Hawkes and Raymond Adams
In October 2014, a team of seven people are visiting Swindon Deanery from the Diocese of Luwero.