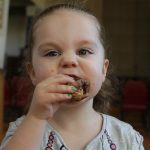 Putting the kettle on and eating toast has helped give a group of mums the chance to meet and share together in church.
For the last nine years, Tea and Toast has been offering mothers in Swindon a chance to catch up over a cuppa after dropping their children off at school.
The group, which is based in St Johns Swindon, runs four mornings a week during term time, providing the women with a safe environment to meet.
The Revd Linda Fletcher, vicar at St Johns, said the group has had a huge impact on the surrounding community.
She said: Tea and Toast is aimed at parents who drop children off at school. It provides a place where mums in particular can come and make friends and support each other.
They are able to share at a deep level what is going on in their lives. As they open up, we have the chance to pray with them.
It builds relationships but also a community around the church. In this community, there is often a lot of relationship breakdown. But here people feel safe as there are no cliques. They know that it follows Christian principals and they are supposed to get along but, if there is a problem, the minister will help to resolve it.
Linda is deeply aware that, while it is a simple idea just tea and toast and an open door the relationships between the mums need a lot of care and support.
She said: A group like this builds from relationships and word of mouth; you need to stick with it and cover it in prayer. It will take time to grow.
What Ive found is that you need to be patient. It is hard work to make sure the group understands the values on which it runs. Ive had to have courageous conversations on four occasions in the last 18 months.
But it pays off and it means we are then able to invite them to other things, such as Messy Church and Alpha.
By simply opening our doors for 30 minutes, four days a week, we have connected with the community, allowing God to show us how we can minister to people where they are.
What next?
Set up a Facebook group for a breakfast club and use it to invite mums from the church to come along with their friends.
Get to know parents in the local community and find out what support they need from day to day.
Read the 'How to...' Guide on setting up a Tea and Toast group.