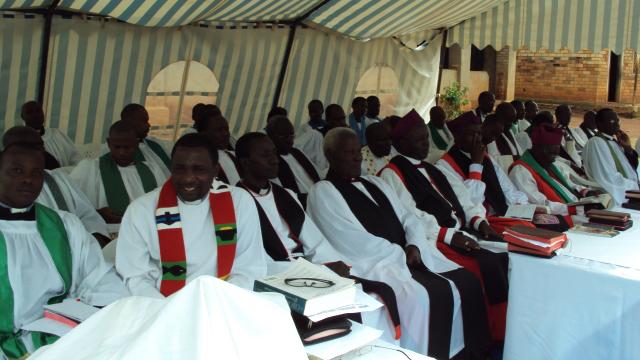 Romans gives us an insight into a convention at Kako in West Buganda Diocese which he attended with Tabitha Ddembe and Amy a young woman from the UK. It took place from 23rd to 26th July, 2009. Over 1,500 people attended, including 3 bishops, over 60 clergy and more than 100 lay leaders.
The Theme was Drop the staff a reference to Exodus 4:2-3 when Moses had to obey God even when it seemed impossible.
Dear Bristolian friends,
We pitched our tents on the 23rd, while the other delegates slept in empty school class rooms. The conventions kicked off with a showing of Samson & Delilah, after which Rev Tabitha Ddembe and her parishioners led the participants in praise, worship, preaching and giving testimonies which continued all through the night.
On the 24th Amy and I had a great school assembly where we spoke about sin and salvation. The children and teachers were very much amused by the magic colours which my friend David Glover from Newcastle had given, and learned that whatever our colour we are all the same to God. Later we joined the main meeting and listened to the speakers. Many of them were translated so Amy and the nonBaganda delegates were able to understand them.
Lunch around 2pm, then back for more speakers who spoke about:
the sins we must drop (our staffs) so that God can use us; sharing stories from their own lives about the sins they have had to drop and the changes God has made in their lives.
In the evening we showed the film of The 10 Commandments to several hundred people.
On the Saturday the programme continued in the same vein, and in the evening we were all moved by a screening of the Mission. Many thanks to Alan Reader who provided all the DVDS when he last visited us.
Sunday the 26th we shared Holy Communion with the newly consecrated
Bishop of Mityana the Rt. Rev. Dr. Kazimba. He gave a very animated message and many came forward to receive Christ for the first, still others recommitted their lives. I had a chance to catch up with him about our time together in the Holy land of Israel last year. The service which started at 10 am did not end until 4pm.
After lunch at 5 pm we packed up and headed home, all of us longing to be back home.
We all pass on our heartfelt thanks to OAC Bristol for sending us the funds which really came just at the right time when we wondered how we would pay for the convention. Sarah always says With faith signs and wonders happen - Romans signs a cheque and wonders where the money is going to come from I needed money for fuel, accommodation etc. so your support was very timely.
Thank you very much.
Ever yours in Him,
Romans
Rev David (Romans) Serunjogi visited Bristol to take part in our 40th Anniversary celebrations in May 2009.