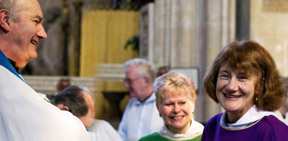 Ordained and lay ministers from across the Diocese once again gathered on Maundy Thursday at Bristol Cathedral for the Chrism Eucharist and to renew their commitment to ministry.
Bishop Mike preached on what it is like to live and minister in the public gaze, using Jesus preaching in the synagogue in Luke 4 as his text.
He spoke of how the gaze of the crowd can make those in public ministry respond in different ways: attention can become an addictive motivation, it can lead to pretence, it can make you weary and angry. But before Jesus put himself into the public gaze, he found himself in the gaze of God.
As in recent years, many clergy and Lay Ministers came forward to be prayed for.