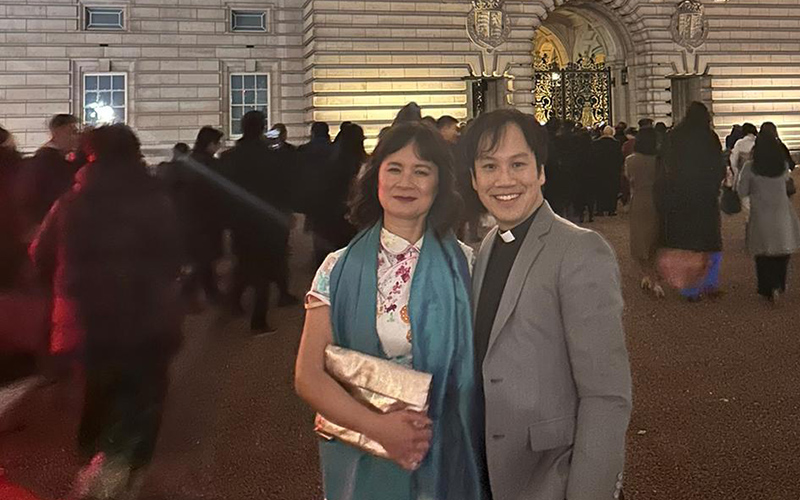 It was Mark Nam's birthday recently. On the special day our Diocesan Minority Ethnic Vocations Champion had been invited to a Buckingham Palace reception to celebrate East and South East Asian communities in the United Kingdom.

The event was staged in one of the Palace's grand reception rooms. More than 100 invited guests mingled with the King, the Queen Consort and other senior members of the Royal Family.

"I spent time speaking to Sarah Owens MP for Luton North, Lord Wei a Chinese member of the House of Lords as well as leaders of some of the anti-racism groups and members of London's Chinatown community," says Mark.

He spoke briefly to the Queen Consort, but the highlight of the evening was a short conversation Mark had with the new King.

Mark introduced himself as one of the first British born Chinese priests in the Church of England working in the diocese of Bristol and was offered a handshake. "Are they looking after you well?" asked the King.

"I was pleased to report that I was being very well looked after," says Mark. "I told His Majesty that we have a wonderful Bishop in the Rt. Revd. Vivienne Faull, who has really made me feel very welcome."

"Please send my greetings to her and how's it going?" asked the King.

Mark explained that a large number of Hong Kong residents are making new homes in the UK, some settling in Bristol.

"Do they come to church?" he enquired.

"Your Majesty, when they see a Chinese face like mine with a clerical collar, they are certainly curious,' said Mark

But the highlight of the brief encounter was yet to come. "The King began to move on before turning back to me, touching my hand, and saying, 'We're lucky to have you.'"

"I was elated," says Mark. "I was really pleased that I had been able to communicate something about what's happening in the diocese to His Majesty and on a personal level, it was a wonderful 'vote of confidence'. He made me feel so welcome. I had a wonderful time," says Mark.