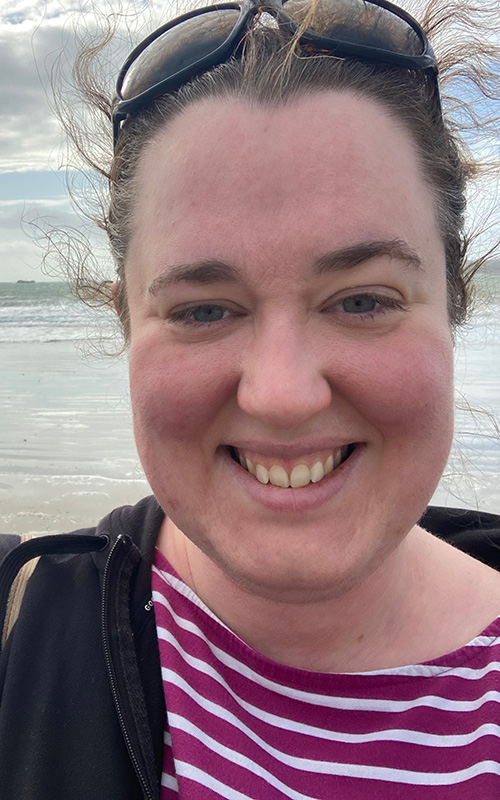 Jessica Price reflects on her first 7 months in the role of Youth Mission Enabler for the North Wiltshire Mission Area.
I grew up around the Cotswolds and North Wiltshire, attending Cirencester Baptist Church and Malmesbury Secondary School, so these areas have always been close to my heart. Despite my Baptist background I have always been involved with Anglican ministries. At eighteen I became a leader for CYFA Haslemere, the camp I attended as a young person, and after university I worked for a year as a project manager for media and events at St James Clerkenwell in London. Before being called to full-time Christian ministry I pursued a career in academia; and have master's degrees in the history of science from UCL/Imperial, and Cornell University, USA.
The NWMA youth mission enabler position appealed to me because of its scope, both in the variety of the post's strategic goals, and the creativity required to achieve them. There are 31 churches in the mission area (co-terminus with the North Wiltshire deanery) spread out across a rural region that takes around 1 hour to drive across from end-to-end; and when I started the job in May 2022 there were around ten secondary school aged young people known to the churches there. I described the first few months of my job as 'looking down the backs of north Wiltshire's spiritual sofas' to find out where all the young people had gone. There is still a long way to go, but at seven months into the job I do at least have a mailing list with contact details for the parents and carers of over thirty young people.
At the heart of our ministry as a mission area is the deanery-wide monthly youth social: we want our young people to know that even if they are the only church attendee in their village they are part of a larger youth work. This monthly theme night moves location so that no single location in the mission area is at a consistent disadvantage geographically. Each evening is designed to be accessible to those with little-to-no experience of church or personal faith: the majority of the evening involves games and activities and there is a very short 'God slot' explaining a simple Christian idea. Themes so far have included: ice cream social, the great cream pie mystery, a night inspired by ITV's 'The Cube' (we called ours 'The Cuboid') and a grand Christmas Ball at Malmesbury Abbey with live music, games and a real life Santa Claus on hand to give out presents and take selfies with the young people.
We are also heavily involved with our local schools: we have members of our team attending Christian Unions at most of the major secondary schools in our part of the county. I am also running a "TV and Ethics" club at Malmesbury School for GCSE and A-level students, where we watch episodes of television shows and discuss relevant ethical issues: it is very small but has a high proportion of young people who do not go to church so from a mission perspective it is very important. In addition, we have been keen as a mission area to partner with the primary schools, a high percentage of which are church schools and have pre-existing relationships with their local parish churches. By working with year 6s and establishing relationships with them while they are still in primary school, we hope that they will feel more comfortable continuing involvement with NWMA: Youth in year 7. I have developed several "Wild Church in Schools" sessions, inspired by the mission area's "Wild Church" initiative, where young people can enjoy outdoor education and religious education. In 2022 we also ran "transition seminars" for year 6s in the summer term, talking about their feelings about moving to secondary school and doing team building exercises. As part of those sessions we gave out invitations to young people to a social especially for year 7s in the September. This proved successful in 2022, and we hope to repeat it in 2023 as we build on our work in primary schools.
One of the exciting aspects of our mission is that we are also developing NWMA as a site for training new youth leaders. We currently have two interns and we are looking for more for future years. There is more than enough harvest for the workers, and we continue to pray that God would lead more people to work with us in future years.
We have a lot to look forward to: at the end of January we will be running our first Youth Alpha course, and over the summer we plan to take groups to Spree, the SWYM youth weekend away (ages 8-18), and CYFA Haslemere (now at Danehill) (ages 12-18). We also want to establish a monthly youth service and possibly enable a NWMA: Youth band. We take our spiritual direction this year from the verses that NWMA as a whole has adopted for our next phase as a mission area:
4 Then he said to me, "Prophesy to these bones and say to them, 'Dry bones, hear the word of the Lord! 5 This is what the Sovereign Lord says to these bones: I will make breath enter you, and you will come to life. 6 I will attach tendons to you and make flesh come upon you and cover you with skin; I will put breath in you, and you will come to life. Then you will know that I am the Lord.
We pronounce NWMA like "pneuma" the Greek word for breath, often used in the New Testament to mean the Holy Spirit, so God's promise to bring His breath feels especially apposite to our mission in 2023. We are excited to see what the Holy Spirit does with us as a mission area as a whole and as a youth mission in particular: may He bring His breath and life to more and more young people.