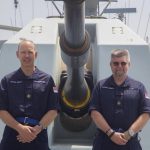 The Revd Martin Gainsborough reflects on two weeks at sea with the Royal Navy:
I have recently returned from a fortnight at sea with the Royal Navy in my capacity as a chaplain in the Reserves.
I was shadowing a regular chaplain in one of the final pieces of training I needed to do before I join 'trained strength' and can be appointed to my own unit. In the deliberation as to where I would go to sea, I had wondered if I might be touring up and down a grey and damp British Isles.
In the end, I was lucky enough to join an operational deployment in the Gulf. I flew to Bahrain where I joined HMS St Albans and I got off two weeks' later when we came alongside in Dubai. Going to sea with the navy was entirely new territory for me and an experience I won't forget. I feel I have caught a glimpse of a different world and one which most of us rarely see.
Time on board was a strange mixture of fascinating and educational but also fairly monotonous! Two weeks on a (relatively small) warship in the middle of the ocean, there is nowhere to go!
The ship was very full. Consequently, I didn't have my own cabin but instead slept on a camp bed next to one of the ship's radars. It made a lot of noise all of the time. At first, I wondered how on earth I would sleep, but in fact it was surprisingly soporific!
The day began at 7am, at which point I clambered down two sets of ladders in search of a shower. This was followed by breakfast in the junior rates' dining hall. One of the joys of being a chaplain - and hence holding the rank of whoever you are talking to - is that you can move between all the messes. Lunch was taken in the senior rates' dining hall and dinner in the wardroom, which is like the officers' living room. The latter was remarkably civilised.
It included a large flat screen TV so depending which way the ship was sailing - and hence whether we were picking up the satellite signal - we got to watch a few of the Euro 2016 football matches. I took exercise on deck, often twice a day, sometimes joining in with the Royal Marines on board. Running on deck took a bit of getting used to as the ship didn't stay still and I was keen not to topple overboard. It was also ferociously hot (always in excess of 90 degrees fahrenheit) so cooling down and rehydrating took a while.
Over the fortnight, I got to observe or take part in a wide range of memorable activities, including repeated practicing of man overboard drills; refuelling at sea (called a RAS), which involves an elaborate and potentially dangerous manoeuvre with another ship; assurance visits to local fishing craft; and a helicopter ride over to a nearby US ship, USS Boxer, as part of an exchange between the two navies. I always enjoyed the daily command brief, which the chaplain attends in order to be able to comment on any welfare issues.
The command brief was also a great opportunity to catch up on what had been happening and what was being planned, including an all-important weather update. Still hot and sunny and thankfully not too rough!
Beyond this, I had plenty of time to reflect on the role of a chaplain at sea. In one sense, being a chaplain on a ship is probably no different from any chaplaincy role where your role isn't directly related to the organisation's 'core business' (ie it is easy to feel like a spare part).
However, there is clearly something distinctive about living and working in such close proximity to everyone with no chance of 'going home' at the end of the day. Church was held on a Sunday and I was pleased to have an opportunity to preach. But, as ever, it was the more informal encounters which seem to be what mattered - a quiet word, a listening ear, smoothing ruffled feathers. Rowan Williams talks about the religious life 'giving shelter to a vulnerable divine presence'.
This too made sense of my time at sea. Chaplains may not ostensibly do very much but there is something about our being present at all - strange though it is - that just may be keeps the rumour of God alive. In my short time at sea, living and working alongside the ship's company, sharing their joys and their sorrows, I developed a real affection for the people I was with. I have huge respect for them, the jobs they do, and the sacrifices they make.
I have thought of them often since I came home and I pray for their safe return to family and loved ones.
Revd Martin Gainsborough
Chaplain Royal Navy Reserve