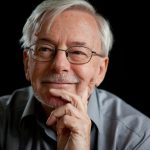 Professor Keith Ward will be taking the latest lecture for Christians in Science as he considers whether Stephen Hawkings theories put him nearer to God than he thinks.
The talk will be based on The Grand Design, by Stephen Hawking (Bantam, 2011), and will suggest that the Hawking hypothesis of the dependence of the observed universe on a deeper quantum reality, which, Hawking says, may involve consciousness at some level, is remarkably like traditional Christian belief in God. Thus the talk will consider how some elements of quantum physics are suggestive of the idea of a Cosmic Consciousness that is, God.
Professor Ward is a Fellow of the British Academy, Regius Professor Emeritus of Divinity at Oxford, and Senior Fellow at Heythrop College, London. He has taught philosophy and theology at various Universities, and written a number of books on religion and science including God, Chance, and Necessity, and Pascals Fire (both Oneworld Press).
The talk is taking place at St Mary Redcliffe Church on Wednesday 16 November from 7.30pm to 9.30pm.
For more information, visit the Christians in Science website at www.cis.org.uk/groups/bristol/