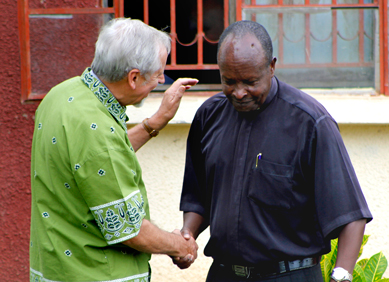 You challenged me to align my values so that my talk matches my walk .. the teaching was so good that we needed at least a full week.
Rev Patrick Situuma, Mission Co-ordinator, Mbale Diocese.
Bishop Mike and Bishop Lee spent the second half of November giving two leadership conferences in Uganda as part of our commitment to leadership development and our partnership with the Church of Uganda.
Nearly sixty participants from eight link dioceses in Uganda attended two conferences one in Fort Portal in the west of the country and the other in Mbale in the east. Five diocesan bishops brought their senior teams.
In turn, it was not just the Bishops but a team from the Diocese of Bristol who brought the teaching and facilitated the learning.
The learning was based on the theme of Developing Christ-like leadership and asked the question, What does it mean to lead and to serve?
Starting from the foundation of holiness of life and character, the bishops focused on servanthood, seasons of leadership and the challenge to renew your passion for ministry and commitment to service.
2 Corinthian 4:1-12 formed a core text for the conferences, as participants explored how the life of Jesus may be revealed in us, as a result of his death and resurrection reproduced in our spiritual lives.
Revd David Hart, the Bristol Methodist Superintendent who joined the team, spoke about leading through structures, amongst other subjects. The model of ecumenism at work in the team also inspired the participants.
The visitors and host churches shared worship and prayer together and, despite some inevitable timing issues, the conferences were well organised and had a good spirit.
Canon Stuart Taylor facilitated prayer, worship and application of the lessons and Revd Chris Dobson, Ecumenical and Global Partnership Officer, who had navigated the challenges of organising the conferences in a cross-cultural context also gave input.
Bishop Sheldon from Ankole came expecting advice about budgets and went away lifted by the spiritual impact on delegates. He enthused: This really exceeded my expectations!
The conferences were made possible by a significant gift from a donor from outside the Diocese.