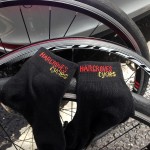 We have been well looked after by the staff in the Hotels and Guest Houses we have stayed in, with the breakfasts a key feature. I have sent a picture of this morning's creation to the Diocesan Facebook page as it was a thing of beauty!
The hotels can also supply an evening meal but when staying in Guest Houses we have gone exploring locally. Mike has Coeliac Disease and cannot have food which may contain gluten. There has been a good deal of variation in how well restaurants and coffee houses cater for him but the places we have stayed have been pretty good. It probably helped that they were given advance warning.
The award for the best menu for 'coeliacs' (as they shorthand themselves) has to go to the Cairngorm Hotel in Aviemore. They supplied a complete and separate menu card. Talking to staff in both restaurants and hotels we were also reminded how hard they work.
Appreciation also needs to go to the Swindon branch of Hargroves Cycles who not only offered to help me raise sponsorship but additionally gave my bike a pre-Tour service. The gear changes have never been better, so thanks to Mark and his team.
The dire weather predicted today mercifully did not affect us. We had been expecting the worst after the Met Office issued a 'Severe Weather Warning' for our region. In the event we had no more than persistent drizzle for half the morning and by the afternoon the sun was strong. After breaking the back of the stage - doesn't that sound more TdL than 'leg'? - we had a late lunch in Pitlochry. 'Victoria's Restaurant & Coffee House' is very cyclist friendly and even had a road race jersey on display. Their tomato soup with peppers and chick peas was delicious and complemented by coronation chicken & apple sandwiches. Sadly the gluten-free menu was non existent and Mike's desire to supplement his cappuccino with some cake went unrequited.
Those with sharp minds will no doubt have deduced that the volume of calories burned over the past three days and 244 miles may have some bearing upon my focus on food today. They say long distance runners go to bed tired and wake up tired! Perhaps long distance cyclists have a similar situation with hunger. Time will tell..