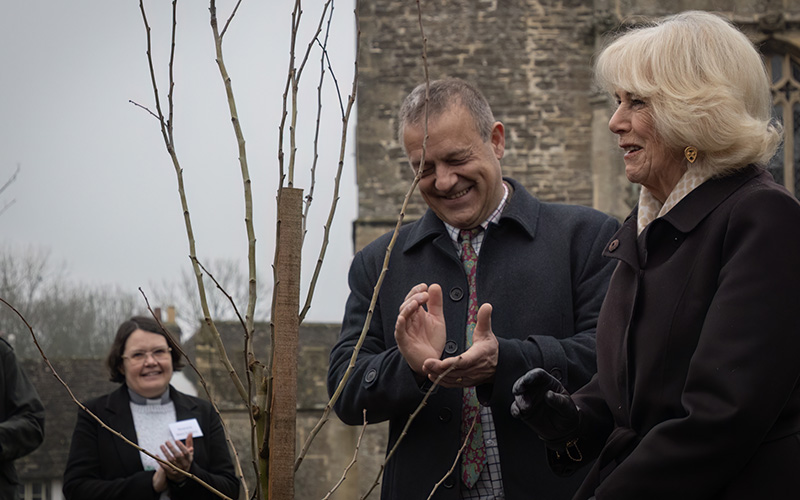 Lacock was proud to welcome Her Majesty The Queen Consort to the village. She visited St Cyriac's church to plant a commemorative tree, visited the National Trust shop and several local businesses.
Bishop Viv Faull, the Bishop of Bristol, Team Rector Dr Andrew Johnson, Area Dean Sally Wheeler, Team Vicar the Revd Mary Gubbins and members of the Parochial Church Council were all introduced to The Queen Consort.
"It was an honour and delight to welcome Her Majesty the Queen Consort to St Cyriac's Lacock and support the National Trust in their welcome," says Bishop Viv.
Queen Camila has close ties to the village and church. Her daughter Laura was married in St Cyriac's in 2006 and she also has friends in the village.
Her Majesty planted a hawthorn tree in the churchyard as part of The Queen's Green Canopy initiative. This is a unique tree-planting initiative created to mark The Platinum Jubilee of Queen Elizabeth II.
"It was an honour to welcome Her Majesty to St Cyriac's," says PCC member Patrick Wintour. "St Cyriac's supports a nationwide commitment by churches to pray, speak out and take action to promote climate justice. The hawthorn replaced an ancient cedar that was recently felled because it had become unsafe. Holly and crab apple have also been planted as part of plan to make churchyard more biodiverse."
Lacock's commitment to climate justice builds on the Transforming Church. Together strategy which includes the goal of achieving climate net zero across the diocese by 2030.
"Royal visits bring communities together, and in Lacock we celebrated HM Queen Elizabeth, planting another tree in the Queen's Green Canopy and remembering the marriage of the Queen Consort's daughter, at which Canon Sally Wheeler officiated," says Bishop Viv. "We looked to the future and plans for the restoration of St Ann's and we joined the children of the village school as they met the Queen Consort. They particularly liked the Chief Constable's medals!"
"I am grateful to the church and National Trust volunteers who brought warmth and welcome to a cold January day, and to HMQC who brought us all together."
Photos: Lacock Photography