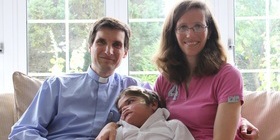 God can connect with us in unexpected ways as Jonathan Bryan can testify.
The ten-year-old was born with severe cerebral palsy and was unable to speak or walk.
His parents, the Revd Christopher and Chantal Bryan, taught Jonathan to use his eyes to spell out words on a specially made board.
After a breakthrough last year, Jonathan has now been able to share his faith with those around him, revealing how he connects with God.
Jonathan said: When I was ill, I went to Jesus garden. My body worked and I looked normal.
Jesus means that my life is full of love. I live under Jesus love and this love will be complete in Jesus garden.
Chantal explained that Jonathan has been sharing with them how he connected with God through his prayers.
She said: Jonathan has told us that he doesnt think using words, but rather through drum beats and colours and emotions.
I asked Jonathan do you pray?. Jonathan said that he pictures people before Jesus and he invites Jesus into the drum beat.
I feel that Jonathan is now teaching me about God. My interpretation is that there is a rhythm of life and Jonathan is inviting Him into that it is a more organic relationship.
Christopher is priest-in-charge of Hullavington, Norton, Stanton St Quintin, Alderton, Easton Grey, Foxley with Bremilham, Luckington and Sherston Magna with Sherston Parva.
He said that God had shown through Jonathan that there were many ways He can connect with us all.
The whole journey of Jonathan has brought us closer to God, said Christopher. It has helped us experience God in different ways and we couldnt have coped without His strength and support, as well as the support of the church.
Jonathan lives in the light of Christian hope where death is not the end. It is something which I believe as a Christian, but which Jonathan has actually experienced. He lives in the knowledge of where he is ultimately going and there is real inspiration in that.
Jonathan now writes a blog (www.eyecantalk.net) and is campaigning for disabled children to be taught to read and write (www.change.org/teachustoo). His petition has already been signed by more than 145,000 people.