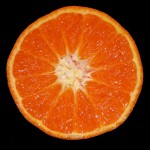 This was the question Revd Jo Vickery from Christ Church, Downend asked on BBC Radio Bristol on Sunday morning (11 May 2014) in an interview.
Talking to presenter Lucy Tegg, Jo explained: "10,000 Voices has been created because the Diocese wants more people to have confidence in their capacity to share their stories and be engaged in evangelism in a way that is normal, meaningful and enables them to feel a sense of connection with God.
"Everybody has a story. We want to share stories about the way that God is at work in people's lives and transforming lives.
"So many people are keen to share stories and yet there seems to be a reluctance among many Christians to speak about their experience of God. I think it goes back to the question of how one sees life. Do you see life as an orange or a peach?
"A lot of Christians see life more as an orange in that it's all divided up into different segments: family, work, sport and social life, and then there's Christian life. We've tended to see being Christian as something that is part of life instead of something that is there in the whole of life. Religion is seen sometimes as something to put in a box rather than a relationship with Jesus throughout every part of our lives.
"So when it comes to talking about our faith, and our Christian faith in particular, it becomes more difficult to get it out of that box."
Jo encouraged BBC Radio Bristol's listeners to take their faith stories out of that 'box' and to share it with others.