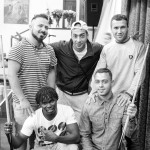 I was destitute, really destitute. And the Bristol Hospitality Network was the only organisation that gave me shelter at that time.
Across Bristol and the West Country, individuals and organisations are doing amazing things to support refugees and asylum seekers arriving in our communities.
Here we look at the work of the Bristol Hospitality Network, which is hosted and supported by Easton Family Centre, and talk to some of those who have been welcomed with open arms.
Formed back in 2009 and registered as a charity in 2010, the Bristol Hospitality Network (BHN) extends welcome and solidarity to people seeking asylum and experiencing destitution through accommodation and creative community involvement. Since it was set up, the charity has provided accommodation to 92 people.
BHN hosts asylum seekers who have become homeless due to the asylum process. Many become destitute when they dont manage to evidence their claim at the first attempt, which is extremely difficult in many cases. This doesnt mean they dont have a genuine claim for asylum, but that it will take them some time to gather the information needed to make a fresh claim. BHN supports them during this time while they work through the process and all those supported are known to the authorities.
Currently BHN provides full board accommodation in host households in Bristol as well as in a large house for men, and offers a range of community volunteering opportunities. Men and women from many different nationalities and religions have received support from BHN and have been helped to start a new chapter of their lives.
K, one of the men hosted by BHN says, BHN has made me happy as for a long time Ive been in this house. Im safe here, and it has allowed me to stay on a positive track. Though BHN Ive found a new life. I know what to do with myself - without BHN I would find it hard to understand myself or my life.
BHN holds a weekly drop-in session at Easton Family Centre, offering advice, company, warmth, education and good food. Chris Priddy and Chris Dobson from Diocesan Support Services were privileged to visit the project and hear first hand some of the experiences of those whose lives have been changed by BHN. Some of those have been captured in this short film
Here are some ways you can support the work of BHN:
Sign up to their email news updates and like them on Facebook, so that they can keep in touch with you about what help is needed.
Offer a spare room in your house to a destitute asylum seeker in Bristol (most are single men aged between 25 and 50). They do not encourage families with children to host because there is no way of vetting members to safeguard your children.
Rent out a room and pay BHN the money you raise to provide BHN with financial support to run its mens hostel. Youll be invited to dinner at the mens house regularly so you can build good relationships with them while not hosting them directly.
Give a regular donation to BHN to help run their mens hostel, the Monday drop-ins and the solidarity fund to give those with no money at all 10 a week to live on. If you want to make a monthly donation by standing order, then please contact WHN. Alternatively you can make a one off or regular donation online now by clicking
If you would like to help, please contact Rachael Bee (BHN Manager) to discuss how. She can be contacted on 07734 347817 or by email wearebhn@gmail.com.
For more information visit the BHN website.