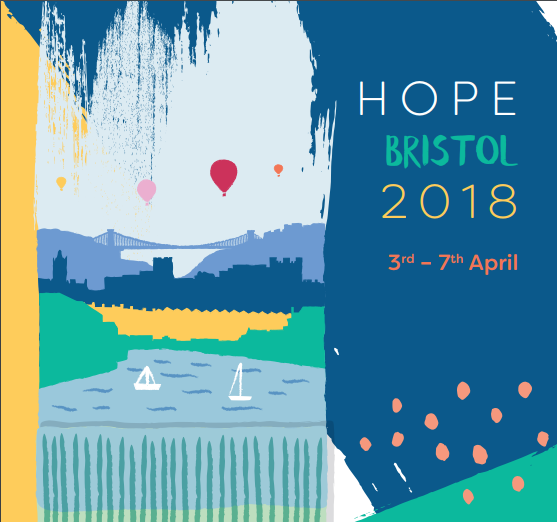 HOPE Bristol 2018 is a five-day youth led mission (3 to 7 April 2018) partnering local churches with around 800 young people from across the country to show God's love in practical ways across Bristol.
Over the five-day mission, teams of young people with their youth leaders will be deployed across Bristol to support churches to reach out to and serve their communities through creative expressions of mission. Each morning will begin with delegates gathering together in a central venue for worship and teaching led by Soul Survivor. Teams of young people will then head out to various parts of the city to take part in local church mission; activities will include, community action projects, childrens clubs, youth cafes, family activities, events for the elderly, and evangelism teams.
There are a number of ways that your church can get involved in the mission.
Launch Sunday
Churches across the Diocese are being encouraged to use their service on Sunday 5 November to promote Hope Bristol 2018 and to pray for those involved.
Hope Bristol has created a number of resources, including videos and slides, to help your church family engage with it.
Pray is an essential part to all that is being done - without God being at work through our endeavours, Hope Bristol 2018 will just be human good will. You can also sign up to receive regular prayer updates as well as information about bi-monthly prayer gatherings at different venues around the city.
Receive a team
The hope is for about 800 young people to volunteer for Hope Bristol 2018. This amazing resource will be spread across Bristol to serve local churches in outreach and care projects. If you would like to run an outreach project with a team of young volunteers, you can put in a request for a team. There are four kinds of projects that you might like to consider running: youth, children, Noise, and evangelism.
Youth: You might like to run a youth cafe, an open youth group, a sports event, host a local talent show, run a detached youth project in a local park.
Children: You could run a holiday club or other events to engage with local children in your community.
The Noise: We are planning Noise community action projects (clearing public spaces, garden clean-ups, etc), senior citizen events and family fun afternoons across Bristol. Your church can partner with us to make them happen.
Evangelism: You might like a team to run some activities where they can share their faith, prayer on the streets, "Turning" style street work, free give aways etc.
A handbook is available from Hope Bristol 2018, filled with ideas of how to get involved. To order a copy and to find out more, head to the Hope Bristol 2018 website at www.hopebristol.org.