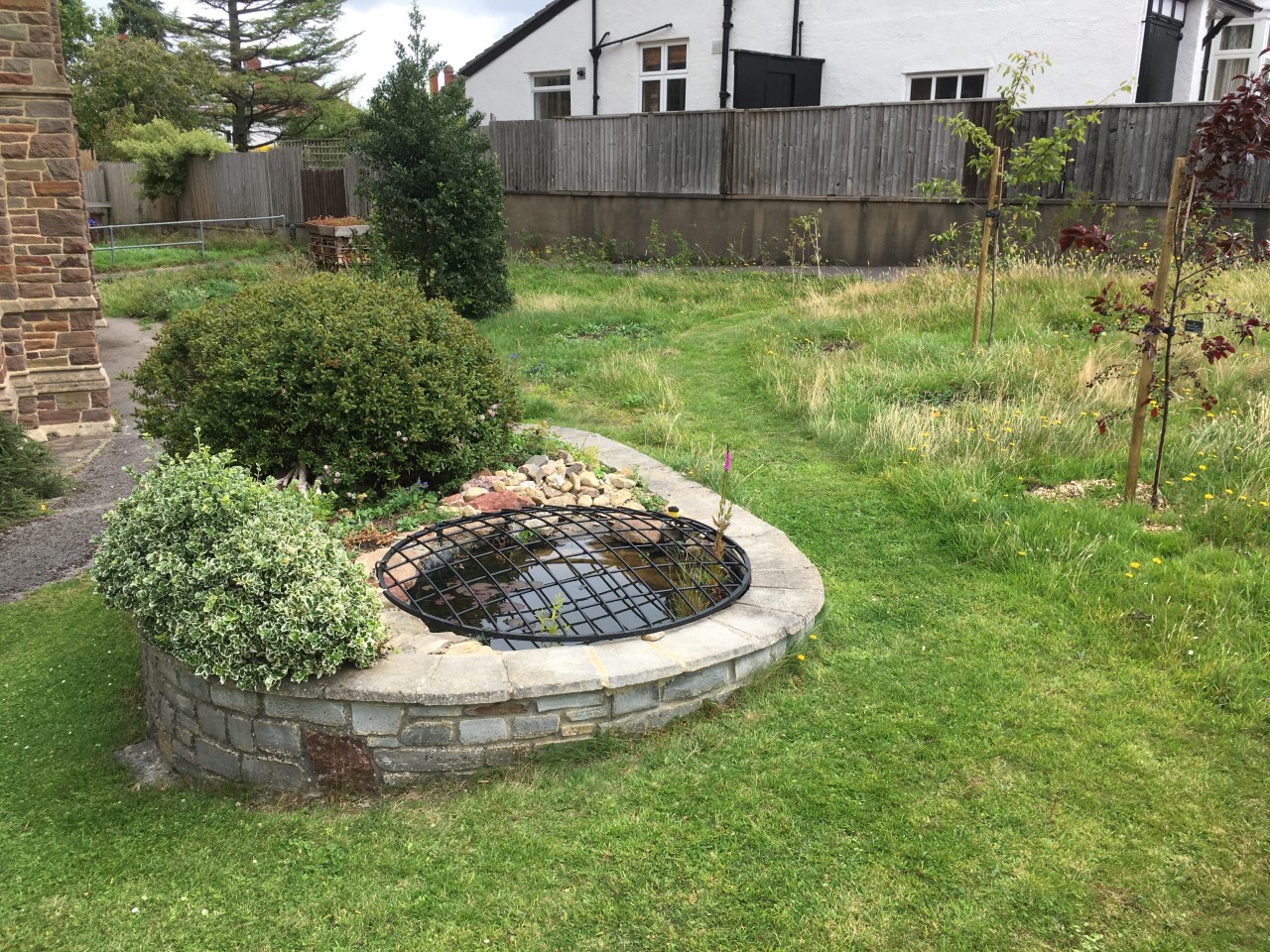 While the church has been closed during the coronavirus lockdown, members of St Peter's Henleaze have taken the opportunity to transform their church grounds into a more welcoming environment for wildlife and neighbours alike.
The newly appointed Eco Committee brought in specialist wildlife gardeners to create a summer meadow alongside the suburban church in North Bristol, as part of the church's journey towards a Silver Eco Church award.
An area of about 70 square metres has been planted with a long native hedge, 3 trees, a lavender hedge and 150 meadow plants amongst the long grass. They created a meandering path through the meadow, to encourage visitors to wander through and enjoy the sights and sounds of moths, bees, butterflies and birds.
Nearby, they have dug a new pond and planted in and around it, adding piles of stones and logs for creatures to inhabit. Children are encouraged to look out for sightings of the varied wildlife the pond will attract, and an information board is being planned to inform passers by of the work the church is doing to safeguard wildlife and nature.
Pauline Watkin, member of the Eco Committee, led the development with Mary Goronwy. Pauline told us: "As well as the meadow and pond, we have installed a water butt to top up the pond with rainwater, a huge bug hotel with a sedum roof, plus hedgehog houses and bird boxes. An area has also been sown with spring flower seed, and later on we will plant snowdrops and primroses. We hope that the garden will be a haven for local wildlife in this busy suburb."
The Eco Church scheme aims to mobilise Christians and churches to care for the environment as an integral part of loving their neighbours and following God faithfully.
If your church would like to do more to help protect our environment, consider:
1. signing up to become an Eco Church and gain an award
2. focusing one Sunday in September on the environment, as part of the Season of Creation. Worship and liturgy materials are available for you to adapt and use.