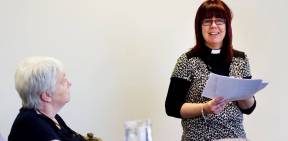 The Revd Becky Waring, who became vicar of St Martins Knowle earlier this year, said that she owed a lot to her first church for their willingness to take risks in giving her opportunities as she took the step towards ordained ministry.
After becoming a Christian in her mid-20s, Becky found herself becoming actively involved in every aspect of church life.
She said: I was encouraged to join in with everything the church did - reading at services, helping run holiday clubs and participating in home groups,. I was asked by a number of people if it was possible God was calling me to ordained ministry or, as they put it, 'when are you going to become a vicar then?'
A journey to licensed lay ministry followed, and my local church continued to encourage me as I grew in my gifts and understanding of my call, with the support of a mentor and prayer partner who was a member of the congregation.
Becky said it was this encouragement and support which helped her to grow as a leader as she answered God's call on her life.
She added: The combination of support at Diocesan level, my local church and a spiritual director enabled me to discern how my call had grown and changed. Looking back, the vicar and congregation were prepared to take a risk in letting me try new things and were honest in their feedback - good and bad!
At any of the points when I doubted my own ability, there were people continuing to encourage and support me. I knew there were people with whom I could offload, reflect, pray and speak honestly as I wrestled with where God was in the midst of many formative experiences.
I now feel so blessed to be vicar of St Martins Knowle - without doubt where God has called me to be, and I am so excited about the plans He has for this place - and to discover the leaders He is already growing in this place!
What next?
Talk to a church leader about discerning your gifts and ways in which you can develop them.