On the day I was baptised, I was in the privacy of my room, speaking aloud to myself saying How do I really know I am forgiven?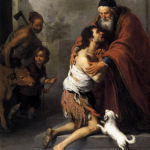 Suddenly I heard a voice speaking with authority.
Do you forgive your father?
I come from a broken troubled family with a violent father.Looking around the room, I could see nobody physically present, after a few moments I realised who must be speaking to me. I replied, Yes.
With the same authority the voice saidThen I forgive you.
From that moment of realisation, I understood that once forgiven, always forgiven because God will always be me in my life, no matter what it throws at me.He has taken care of the past and the future. All I need to do is rely on Him for his help with the present!
"For if you forgive men when they sin against you, your heavenly Father will also forgive you. But if you do not forgive men their sins, your Father will not forgive your sins." St Matthew 6:14-18