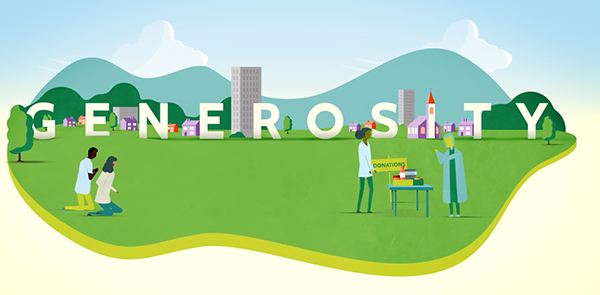 How do we build a new, generous culture?
As the diocese embarks together on a new strategy, this is a vital question. And one we'll explore at our Building a culture of generosity workshops on Monday 13 June in Swindon and Bristol.
A third of Anglicans don't currently give financially to their church, and a whopping 40% have never been asked to give, so it's clear we need to take action to release God's people into generosity that transforms them as they give.
Whether you are in lay or ordained church leadership, you'll be inspired in new ways to encourage a generous culture and discover great new resources. Expert advice comes from the experienced National Giving Ministry Advisor, Rev Trevor Marshall, and our very own Canon Raymond Adams.
Bishop Lee will lead the day, and he is keen for everyone to have a chance to come along to join in with this crucial conversation – so we're running the workshops twice on Monday 13 June – one in Swindon from 10am–12noon, and one in Bristol from 3–5pm.
The last time we met together as church leaders to discuss generosity was September 2021 at the Transforming Stewardship Together event. This was very much valued and this what some people had to say:
"Excellent day - made giving interesting and a challenge. Thoroughly enjoyable!"
"Other events I have left unhappy because the focus seemed to be "getting money", the focus here felt like discipleship. Thank you!"
We appreciate that the lives of church leaders are incredibly busy, but believe that this will be a very rewarding two hours. Please do give your time and book your ticket now. We are looking forward to welcoming you.
Book
St John's Haydon Wick, Swindon 10am–12noon, Monday 13 June
St Edyth's, Sea Mills Bristol 3–5pm, Monday 13 June