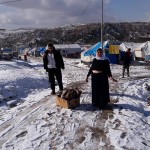 Generosity has overwhelmed the Church in Westbury Park (St Albans CofE and Westbury Park Methodist) after it put out an appeal last week for warm winter clothing for refugees in Northern Iraq and Syria.
Members of the congregation and the community joined forces to collect essentials for those living in camps in freezing conditions. Warm clothes are a major priority but so are shoes, boots, baby equipment, sanitary products and zimmer frames. The donated goods, which will be taken to the Middle East by the charity Samaras Aid, have completely taken over the Methodist Church on North View where they are being stored before being shipped at the end of this week.
Along with piles and piles of clothes, more than3,000 has been raised in just a few days as the people of Westbury Park pulled together in solidarity with some of the most vulnerable people in the world.
The Rev Emma Langley,Vicar of St Albans and Ecumenical Minister in the Church in Westbury Park, said:We are overwhelmed by the response. Wed hoped to have a van full of stuff to take but now it looks like were going to need a removal lorry.
"People have been so generous - both with their donations of clothing and other vital supplies but also with the money needed to cover the cost of shipping them to the Middle East. Lives will be saved because of the incredible generosity of members of this community
This week dozens of volunteers will start the work of sorting and packing the clothing. The Church in Westbury Park is hoping to partner with local businesses to transport the goods to the central collection point in Barnet, North London. From there they will be taken to the Middle East by Samaras Aid.
For more information about Samaras Aid, visit the website.