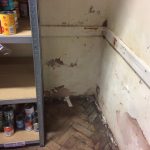 Bristol North West Foodbank is calling for help from the community to repair one of their warehouses following serious water damage.
A continually leaking roof has left the foodbanks Avonmouth warehouse at St Andrews Church, which stores stock to distribute to local people in crisis, rife with damp and peeling walls.
During a heavy rainfall earlier in the year the roof leaked which soaked much of their stock, causing the labels to come away from the tins. The church has now managed to have this part of the church roof repaired, but the warehouse remains damaged.
The foodbank is asking for donations of funds and equipment, or help from a local builder to gut the room, have the walls dry lined and painted. It would also like to purchase new shelving to increase capacity as the need in the area continues to grow.
The foodbank gave out food to its 15,000th client this month, and has been helping local people in crisis for five years. It not only distributes emergency food to people referred to the foodbank, but also runs free budgeting and cookery courses for the community.
Bristol North West Foodbank Manager, Emma Murray, said, We recently gave out a food parcel to our 15,000th client and each parcel tells a different story. A client remarked to us last week, I literally wouldnt have survived without the Foodbank.
"Having a warehouse with damp walls and limited shelving means we cant give as many people the support they require. Im calling on the generous people of Bristol to offer anything they can to make sure the foodbank can provide all the help the community so desperately needs.
For more information, please contact Emma Murray at
.