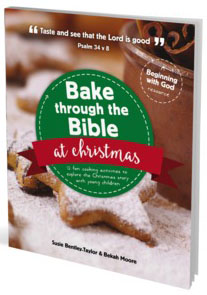 As the memories of 'Great British Bake Off' fade away (can you remember who won it again?)
Christmas is a popular time for baking scrumptious treats and I've just discovered a little gem that helps parents/grandparents explore the Christmas story with their children and have lots of fun cooking together.
Bake through the Bible at Christmas contains 12 Bible stories, told in a simple, engaging style, that take children through the events of the first Christmas. Each story is supported by a cooking activity that reinforces the main teaching, along with questions to discuss while cooking, and a simple recap to use while enjoying what you've made.
Cooking activities include:
Spiced star tree decorations to remind you that Jesus is the light of the world. Cranberry angel cakes to link with the angel's message to Mary. Egyptian tomato soup with pyramid toast to remember that God kept Jesus and his family safe in Egypt.
So pre-heat the cooker to 200c and get baking through the Bible this Christmas!