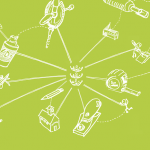 How is your parish Making disciples, Growing leaders and Engaging with younger generations?
Where are you discerning the move of the Holy Spirit and seeking to connect with your communities in mission?
Mission Action Planning, by Mark Ireland and Mike Chew
has had a very significant impact, helping churches to listen to God, to focus on mission, to discern vision and priorities and to be effective in making new disciples.
In the Diocese of Bristol, we have asked every parish to explore what Creating connections looks like in their context, a process mirroring that proposed in Mission Action Planning.
As a Parish Priest it was a joy to read one church's summary of their engagement with the Creating connections toolkit. In response to submitting their response to the questions it posed they were delighted to receive a very encouraging thank you letter from the Bishops.

Revd Ness Whiffin
Have you made your response yet?
The 'Creating connections' toolkit is designed to help your parish explore its engagement with, and response to, our diocesan identity and priorities that connect us together. It contains a set of questions that a PCC can explore together through discussion and invites the parish to make a short response, submitted to the Bishops, highlighting the focus of their discussions and arising plans for mission.
Download and read the toolkit here
Alternatively, you contact the Diocesan office to request printed copies.