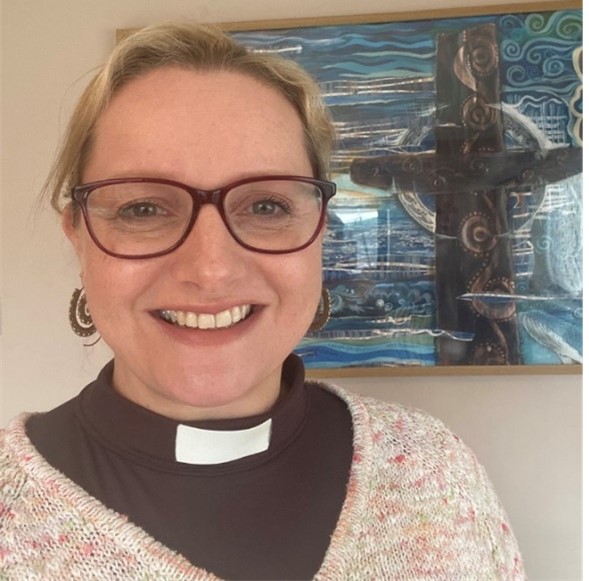 Jordan Ling has recently been appointed as Diocesan Advisor for Clergy Wellbeing after a very successful secondment since March this year.
Prior to being appointed, Jordan was a Vicar of the King's Way benefice in East Bristol where she served for nine and a half years and over the last 18 months has also been providing wellbeing support to our clergy.
Jordan is excited to be starting her new role in September but admits that it will be strange moving from parish ministry but she also feels that the experience she has of parish life will aid her in supporting clergy in their joys and challenges.
Jordan brings to this role, pre ordination experience of working as a counsellor and mentor and has continued these threads throughout ministry in mentoring, coaching, spiritual direction and more recently returning to counselling.
In 14 years of ordination, Jordan has served as a pioneer curate in an area of deprivation in Leicester and as the incumbent of three parishes in East Bristol with a varied ministry.
Commenting on her new post, Jordan Ling, said, "I feel privileged to have been appointed as a permanent Diocesan Advisor for clergy wellbeing and I am glad to be continuing to walk alongside our clergy and their families in supporting their wellbeing needs.
"I feel this new chapter allows me to be fully present for our clergy and believe ordained ministry to be a unique calling in both its joys and pressures, and one that, in all expressions of ordained ministry, is to be cherished.
"It feels as though the pandemic has heightened some of the pressures for us all, including clergy and this time is especially crucial in supporting the wellbeing and thriving of our clergy. I also believe this to be a season where creative thinking is happening around helping our clergy thrive and I look forward to working alongside our Bishops, Archdeacons and senior staff in a holistic way to develop this further. I have met most of our clergy either face to face or online and I am keen to connect afresh over the coming months".
Jordan is married to Ben who is a solicitor and together they have four children ranging from early twenties to pre-teen and a dog, Bramble, who they all adore. As a family they share a love of the outdoors and Jordan particularly enjoys cycling and wild swimming and in lockdown purchased an electric bike which has transformed her working days.
Rt Revd Vivienne Faull, Bishop of Bristol said, "I am pleased to see Jordan take up this role. She comes to it with a wealth of experience in counselling, coaching, mentoring and spiritual direction. This is not an easy role as we seek to balance the needs of the Church with the needs of individuals but I know Jordan will navigate this sometimes tricky path with sensitivity and care."