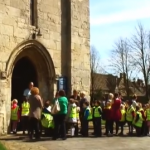 The responsibility for school effectiveness is shifting to those who provide schools thats us, said the Bishop of Oxford, chair of the CofEs Board of Education, in the General Synod debate on church schools.
Church schools develop children spiritually as well as academically and emotionally, he said. In order to do that its vitally important that theyre equipped to be able to engage with religious faith and practice.
You cant understand the modern world without understanding what motivates 75% of the worlds population, said Rt Revd John Pritchard.
The Bishop referred to newly published statistics which show that 81 per cent of CofE primary schools and 76 per cent of CofE secondary schools, are rated Good or Outstanding by OFSTED which is above the average for non-CofE schools by 3 per cent and 4 per cent.
After a wide-ranging debate, Synod approved a motion affirming the crucial importance of the CofEs engagement with schools for its contribution to the common good, and to its spiritual and numerical growth, while committing itself to the following actions:
(a) urge dioceses, in the light of A DBE for the Future, to complete the self-evaluation framework within 12 months and thereby review their support for schools;
(b) invite dioceses to draw up plans for promoting the widest possible use of the new Christianity Project materials in Church and other schools;
(c) request the Ministry Council to consider and report to Synod in 2014 how training for lay and ordained ministers can include more school related experience;
(d) encourage parishes to identify and implement good practice to strengthen links between Church schools and parishes (amendment carried during the debate);
(e) invite the Archbishops Council to report to the Synod by February 2015 on the outcome of its discussions with the National Society on the national governance proposals made by the Chadwick Report.