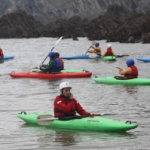 Over the weekend of 19-21 September, 30 young people from clergy families in the dioceses of Bristol and Bath & Wells travelled to the Devon coast for the 12th Life to the Max.
Life to the Max
(LTTM) is a unique event that supports children of clergy aged 11-18 years, providing time and space for young people to meet and share their experiences.
With glorious weather and good-sized waves the young people enjoyed the Devon coast: surfing, kayaking, climbing and coasteering. There were so many highlights this year, including a nostalgic sing-along on the Saturday night as the group watched The Lion King with spontaneous applause at the end. Who needs Frozen?!
This is what a couple of the young people said about the weekend:
I wanted to thank you again for the most incredible weekend! I enjoyed this year the most and am already counting the days until next year!
Thanks for a fantastic sevenyears at LTTM. I have looked forward to coming every year and I will really miss it.
Life to the Max+
Over the past few years a number of regular LTTMers who have moved on have commented how much they will miss LTTM. Because of this, a weekend has also been provisionally booked at St George's house on the first weekend of July 2015 for anyone aged 18-25 who has been to LTTM before - as well as any newcomers who have grown up in a clergy household.
Next year's LLTM will take place18-20 September 2015.
Contact
If you would like to know more about LTTM or LTTM+ please contact Dan Jones on 0117 906 0100 / daniel.jones@bristoldiocese.org