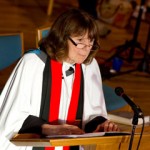 Churchwardens from across the diocese gathered at seven deanery Visitations services during May to celebrate and affirm their ministry and formally take up their offices for another year.
The services were led by Archdeacon Christine Froude and included the legal swearing-in and commissioning of the churchwardens as elected Bishops Officers and senior lay leaders in mission in their parishes.
Archdeacon Christine used her Visitation Charge to introduce the new diocesan Vision and Priorities entitled Creating Connections and encouraged all churchwardens to commit to embracing what Bishop Mike has described as the life-changing journey on which the diocese is embarking.
Click here to read the Archdeacons Visitation Charge in full.
Download a copy of Visitation News 2016
Watch Archdeacon Christine speak at the Connected Conference about the Vision and Priorities: