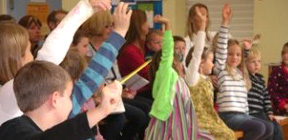 Church schools emphasise educating the whole child but need the support of Foundation governors can you help?
The role of governors in schools continues to grow in importance and this is even more true for Church schools. Governors help to hold a school to account for standards, discipline, finance every possible aspect you could imagine. Church schools also need Foundation governors to represent the local Christian community on the Board and to help nurture a distinctive Christian ethos within the school.
The skill sets of governors vary hugely but Foundation governors must have a passion for education, a concern for school improvement and a commitment to Christian distinctiveness. There are many different ways you can get involved in the life of a school as a governor but the commitment to serve, attending termly meetings, is sometimes the greatest quality that can be brought.
There are currently over two hundred Foundation governors serving the Dioceses seventy schools. However, there are not only quite a few vacancies but also a real need for an informal register of those who might be willing to be deployed to a school if a sudden vacancy arises or if it gets into trouble. If you would like to find out more about being a governor, read a local case study.