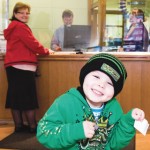 Food poverty and debt are at the heart of the Diocesan Synod's discussions on 7 December as we highlight these issues as part of the Christmas starts with Christ campaign.
Having marked Bristol Cathedral becoming a food parcel collection point on Monday 2 December, Bishop Mike will use his Synod Address to highlight food poverty and how as a Church we should play our part in addressing it.
Bishop Mike is joining the Archbishop of Canterbury in encouraging people to give what they can to FoodBanks this Christmas as an act of compassion; but he is also encouraging people to challenge the underlying conditions that are creating this poverty as an act of justice. He will use his Address to expand on a motion debated by City Deanery.
The Synod will also focus on debt issues, hearing from Canon Antony Macrow-Wood of the Churches Mutual Credit Union. Credit unions represent a more ethical, community-based approach to banking. For that reason, the Archbishop has called on churches and church members to support credit unions in their local area, helping the whole sector to grow.
People can support their local credit union and raise awareness in their community. Only 13% of people on low incomes know about the services credit unions provide but, on learning more, 60% of this group say they could benefit.
In addition, charities like Christians Against Poverty (CAP) have a major impact on those struggling with debt. The two CAP centres in Bristol are run in partnership with Church of England churches (Christ Church, Downend and St Edyth, Sea Mills) and there are centres in Swindon, Bath and Chippenham also.
With UK personal debt at 1.4 trillion and people paying a total of 163m interest on personal debt each day, the ministry of CAP that helps 26,000 people a year not only out of debt but into a relationship with Jesus is hugely important.
At Christmas, food poverty and debt are particularly apposite given the focus on consumption and consumerism. The Diocese of Bristol has produced three short vox pops videos asking, "Does Christmas start with... turkey? presents? or a baby?" to draw attention to food poverty and debt issues while reminding people of the true meaning of Christmas - and why Christians are therefore committed to those in need.
#Christmasstarts when debts are paid View on YouTube
#Christmasstarts when we feed the hungry View on YouTube