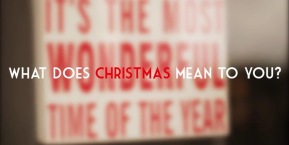 The Church's successful twitter campaign,#ChristmasMeans will be running again this yeargiving congregations and individuals across thecountry a chance to show what Christmas meansto them, with image, videos and 140 characterreflections.
To get the ball rolling, we spent a morning with our video camera in and aroundBristol Cathedral, asking people what Christmas means to them and got some interesting responses!
So what does Christmas mean to you? Share your thoughts on Twitter and Facebook with the hashtag #ChristmasMeans.
We are also sharing personal stories and reflections from people across our Diocese on what Christmas means to them. You'll find links to these listed below.
If you have a story to share and would like to get involved in this activity, please email Vanesther Rees in our communications team.
Last year more than four million people connected with #Christmasmeans withvideos, pictures from Christmas servicesand Bible verses.
We are delighted that #Christmasmeans gives usthis opportunity for parishes to take the goodnews of the first Christmas beyond churches andinto peoples lives and homes, says Rev ArunArora (@RevArun), Director of Communicationsat the Archbishops Council.