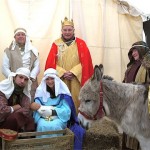 Hundreds of children have played detective in a Bristol church as theyfound out more about Christmas.
St Stephens Southmead was transformed into scenes from the Nativity as part of the Christmas Through the Keyhole project.
The trail wascreated byRedland Education Centre at Redland Parish Church Bristolfour years ago. It involves groups of children exploring the deserted homes of characters from the Nativity, including kings and a very grumpy innkeeperas they try to find clues about the birth of Jesus.
The project was awarded Bronze Winner for Most Replicable Project by the Christian Founders Forum last month.
Rev Tanya Lord, Priest in Charge at St Stephens, said: The trail has been hard work but totally worth it! The joy on the faces of the children as they travelled on the journey collecting important clues as they searched for Mary, the shepherds, Joseph and the wise men was beautiful to behold and a privilege to share.
Christmas through the Keyhole is an ideal vehicle to draw in those on the fringe of Church life, creating a warm community atmosphere and a safe space in which to hear again an old familiar story and perhaps have it touch you in a new way. I saw many a tear in the accompanying teachers eyes as they encountered the live Nativity scene in the stable at the end of the Journey.
The prayer of the churches together in Southmead is that this event may be the beginning of a very special journey for each one of our visitors this year. I highly recommend this adventure to all my colleagues - you may think you don't have enough people to run it but trust me the Lord really does provide in mysterious ways!
To find out more about Christmas Through the Keyhole, visit the Redland Education Centre website.
For further details or to book, call 0117 9464695 or email at edcentre@redland.org.uk.