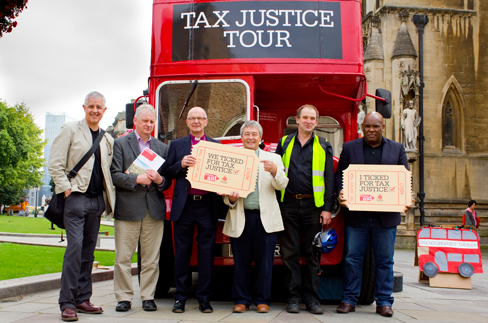 On Monday 3rd September the Christian Aid Tax Bus stopped off in Bristol.
Mike Hill with Dougie Burnett, David Grosch-Miller, Ward Jones, SPI Lewis and Ray Veira[/caption]
It was parked up at College Green for the day and local MPs and church leaders were invited for coffee, pastries and a presentation on the effects of tax avoidance on local, national and international economies. Tax dodging by some companies costs the developing world an estimated $160bn each year much more than they receive in aid. This tax dodging is contributing to a global crisis where governments are unable to fund the essential services that are crucial to lifting people out of poverty.
Bishop Mike Hill offered to table questions in the House of Lords spotlighting the complexity and need for joint inter-governmental action if taxation is ever to be both fair and benefiting those whose need is greatest.
For more information email lnash@christian-aid.org or phone 01454 415923