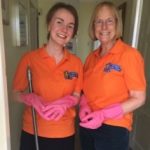 Christians in Bristol have been carrying out chores in the homes of people struggling with their housework.
Members of St Peters Church, Lawrence Weston, have formed a cleaning team and are offering their skills to anyone who is having difficulty in the upkeep of their homes.
The group was put together by Emma Murray, whose husband Andy is the vicar of St Peters, Lawrence Weston and St Andrews in Avonmouth.
Emma, who has worked with Bristol North West Foodbank for six years, said that she felt God prompting her to create the team.
She said: I am in a Bible study group with some women and one of our challenges is to work with somebody needing help.
I went to the flat of a foodbank client to do some cleaning for her and I had a bizarre experience as I came out. I felt God saying this is what I want you to be doing.
As the day went on, I started to see in my mind a picture of people wearing orange T-shirts with St Peters Clean Team written on them.
I didnt want to take on a big project but I felt this was from God.
The team have been finding people to help in the parish through word of mouth.
Emma said: We werent sure how to start, so we decided to begin with litter picking. While we were doing that, we ended up speaking to a man with ME. He told us that his windows had been covered in eggs since Halloween and he needed somebody to help clean them off.
There have been various little jobs like that: we painted a neighbours hall and cleaned the house of a disabled woman.
I feel God is saying this is going to be something quite big in the end.
It is as if we are being sent into dark places and we are bringing God's light. It changes the atmosphere of these places.
Even if you belong to a small church, this is something which you can do with just one or two people.