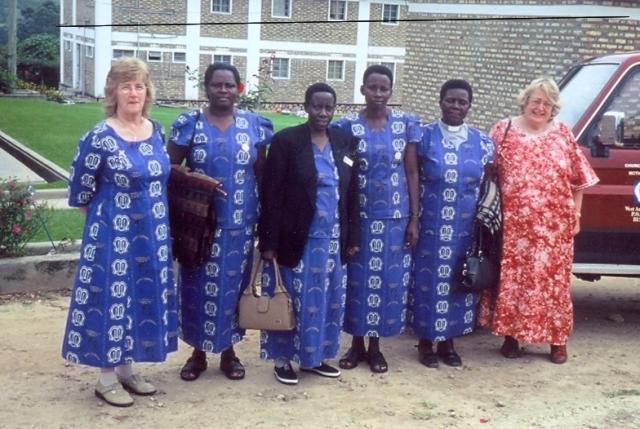 The Mothers Union in Uganda was started in 1908 by Mrs. Weatherhead, wife of the then head teacher of Budo Junior School. Over the years it has had a profound influence on the lives of countless families.
"We believe that a happy marriage is of great value to family life. And through our work over two million families have been saved from breaking up." Rev. Canon Edidah Mujinya, the president of Mothers' Union Uganda.
On October 19th, 2008 Julia Lettey and Mary Head travelled with over 3000 Mothers Union members from all over Uganda to Mengo Primary School in Kampala to celebrate the Ugandan MU Centenary. It was a great event with wonderful singing and dancing competitions. Many people in Bristol Diocese will be pleased to know that the whole event was organised and introduced by Odidah Mary. At one point the clouds came over and threatened rain, but the Archbishop prayed and the rain stayed away. After the service at which the Archbishop spoke eloquently paying tribute to the role of Mothers in the church and the nation they had the feeding of the 3000.
Julia came away with the sense that we too "need to proclaim God's Kingdom more positively and confidently."
The four hour return journey to West Ankole turned out to be a real adventure as the bus broke down an hour out of Kampala. Fortunately when the bus going in the opposite direction arrived the drivers swapped over their passengers and they were able to continue on to West Ankole. (Who knows what time the other passengers eventually arrived in Kampala though!)