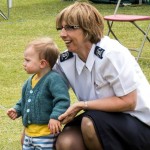 A fine mid-summers day was just what the doctor ordered for this years C in the Park event last month, organised by members of churches in Downend and the surrounding area.
Hundreds turned up for the open air service in King George V Park, where Bishop Mike Hill spoke on the theme of God's love for his people, emphasising his willingness to forgive and welcoming back anyone who asks.
Bishop Mike'stheme was illustrated by the Kensington Puppet team who, with an army of farm animals, brought to life the parable of the Prodigal Son from Lukes Gospel. Also involved in the service was the Salvation Army band, a choir from Mangotsfield CofE Primary School and Larry Harvey, a reformed criminal whose life has been transformed by his Christian faith.
While people enjoyed a picnic, Bishop Mike took part in a question and answer session, talkingabout his childhood ambition to play football for Manchester United, his call to Christian ministry and his vision for Christians to live out their faith sevendays a week.
Through the afternoon, people of all ages sat listening to various bands and choirs on the main stage, while the more energetic participated in inflatable obstacle courses, took on the rodeo bull or had their faces painted. There was a tremendous family atmosphere and a great sense of community, with local groups such as the Royal British Legion, Friends of King George V Park and Downend &Bromley Heath Council on hand to talk abouttheir work in the local area.
Now in its fourth year, C in the Parkis organised by local churches as a gift to the community with 13 local churches involved this time round.
More: Photos on Facebook.