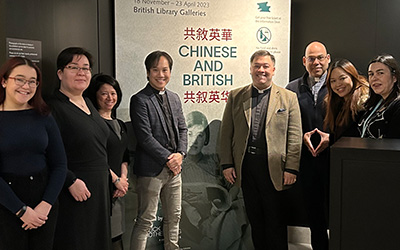 The Church of England's Racial Justice Director, Revd Guy Hewitt met members of the Teahouse at the 'Chinese and British' exhibition at The British Library in London recently. Among the party was the Revd Mark Nam, Bristol's Minority Ethnic Vocation Champion.

The Teahouse - a support network for Chinese-heritage clergy - met up with the Church of England's recently appointed head of the Racial Justice Unit, at the "Chinese and British" exhibition.

It was an opportunity for Mr. Hewitt - who has campaigned on the Windrush Scandal - to listen to East-Asian clergy who represent less than 0.08% of all stipendiary clergy.
Exhibition Co-Curator Dr. Lucienne Loh from the University of Liverpool and the Library's Curator of Modern Archives, Karen Stapley, led a tour of the exhibition.
Among other stories, the exhibition highlights the forced repatriation of Chinese seafarers by the British Government in the 1940's, the "Forgotten Army" of Chinese labourers who supported British forces during World War II, and the issues of racism endured by East-Asian's in the UK today, which has risen by 300% since the pandemic began.

"I was so pleased that Guy wanted to hear our stories and learn about the earliest Chinese settlers and the challenges they faced," said Mark. "I am looking forward to further discussions on Racial Justice for East-Asian diaspora, and how we can be a more inclusive and diverse Church," he said.

Photo from left to right: Bella and Kaarina Leong (ordinand), Dr. Lucienne Loh (Uni. Of Liverpool), Revd Mark Nam (Diocese of Bristol), Canon Andrew Zihni (Diocese of Southwark), Revd Guy Hewitt, Amy Tan (ordinand), Karen Stapley (British Library).