This weekend members of churches from Bristol Diocese are travelling to London to take part in a 4-day climate protest.
From 21 – 24 April, thousands of campaigners and over 70 charities are joining together, to demand that the government act now to stop investment in fossil fuel extraction.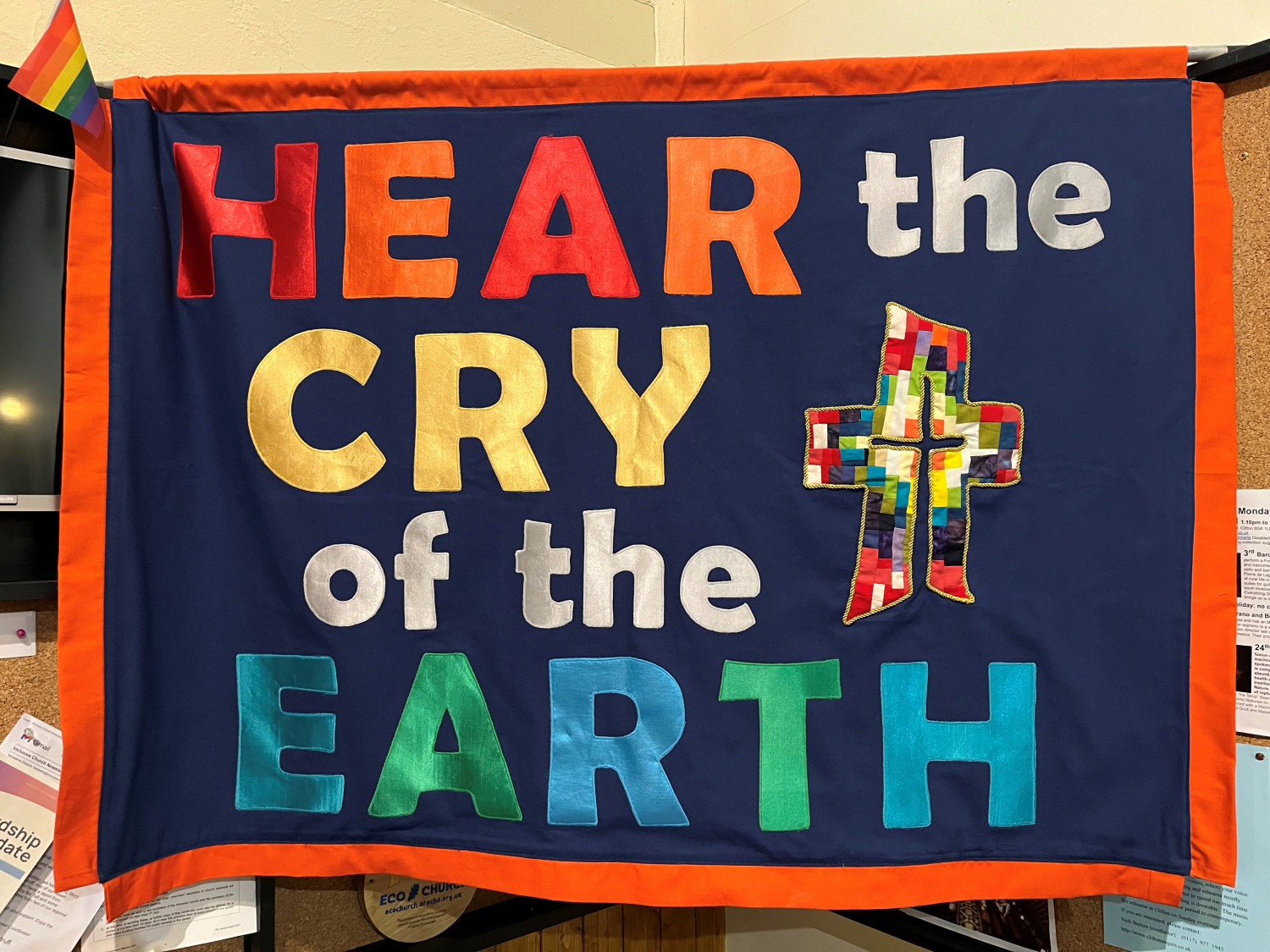 Banner made for The Big One by St Paul's Clifton
As Bishop of Bristol, the Rt Revd. Vivienne Faull has expressed her support saying:
"The ongoing investment in fossil fuels is continuing to cause devastating damage to the climate and ecosystems on which we all depend. It is up to us as Stewards of the Earth, to tell the truth and act now in the face of catastrophic climate and ecological breakdown.

We are inspired by the example of Jesus Christ to challenge the powers that dictate the unjust devastation of the Earth, as well as continuing to examine and change our own priorities and that of our churches.

The 'Transforming Church. Together' Strategy is for everyone in the Diocese of Bristol, both within and outside the church. We aim to be relentlessly inclusive in our approach and we are committed to listening to, and amplifying, the voices of people in our communities, including those that challenge the status quo. We also recognise that we are called to listen to the cry of the earth. This is underpinned by our strategic commitment to become an environmentally sustainable Diocese that aims to be Net Zero by 2030."
From 14 June, local artist Luke Jerram will display an installation at Bristol Cathedral, to highlight contemporary society's reliance on oil and the need to move away from this dependency.
Bishop Viv said:
"The Church of England has committed to divest by mid-2023 from any fossil fuel companies which are not aligned with the 2015 Paris Climate Agreement. I hope that this installation will allow visitors to reflect on the importance of urgently limiting our reliance on fossil fuels and highlight Bristol Diocese's commitment to environmental sustainability."
In addition to the environmental action taking place this weekend, for those joining the march in London, there will also be a 'No faith in fossil fuels' service and pilgrimage to Parliament on Friday 21 April. Several Christian organisations are taking part in the event, including Christian Climate Action, Tearfund, Christian Aid, CAFOD, YCCN, Student Christian Movement, Operation Noah, Just Love, Engage Worship and Green Christian.
If you would like to connect with other Bristol worshippers travelling to London a coach is leaving from St Paul's Clifton. Contact Bristol Christian Climate Action or St Paul's Clifton to find out more. For those who cannot make it to London local churches are encouraged to use prayers from the No Faith in Fossil Fuels Service.
Is your church hosting a No Faith in Fossil Fuels service?