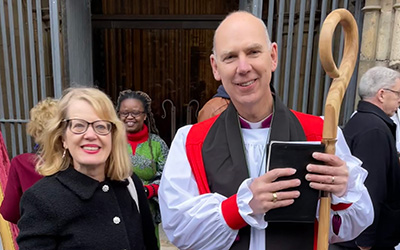 A group of supporters from across the Diocese were privileged to be in Canterbury Cathedral on 2 February to participate in Bishop Martin's consecration service.
The sun shone and the trains were running, which added to the joy of the occasion.
Bishop Martin, formerly Bishop Viv's Chaplain, was ordained and consecrated as Bishop of Kingston. Joining him at the sevice were Bishop Jane consecrated as Bishop of Hertford and Bishop Robert as Bishop of Ebbsfleet.
At a reception following the service, Bishop Martin and his family were joined by old colleagues and friends from the Diocese of Bristol and new colleagues and friends from the Diocese of Southwark to celebrate such a special day.