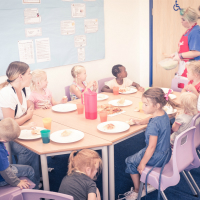 Can you volunteer to combat food poverty in Bristol this summer?
School holidays are not just a break from the classroom. For many, they are also a break from hot meals.
For the 13 weeks of school holidays this year, many pupils in the UK will not eat a hot meal each day.
At school, more than 1.2 million pupils who may otherwise go without are eligible to receive free school meals. Outside of term time though, free school meals are not available and many pupils are left without regular hot food.
This is where MakeLunch comes in.
During school holidays, a network of churches and community groups open Lunch Kitchens to provide free, healthy, cooked food for pupils who usually receive free school meals.
One of the churches taking part is St Lukes Church in Barton Hill, which is providing free hot meals, three days a week during the summer. It is running on Mondays, Tuesdays and Thursdays for four weeks during August - and is currently looking for volunteers to lend a hand.
The children take part in games and activities before sitting down for a hot meal.
Hannah Widdows, MakeLunch Network Development Coordinator, said: "It's sad to think there are children around who aren't getting the meals they need. But it's great to know that our Lunch Kitchens are there providing food and support where they can."
Can you help this summer over lunchtime in the summer to cook and serve the food or help with crafts, sport activities and games? Commitment is flexible.
Contact lunchstlukes@gmail.com for more information.