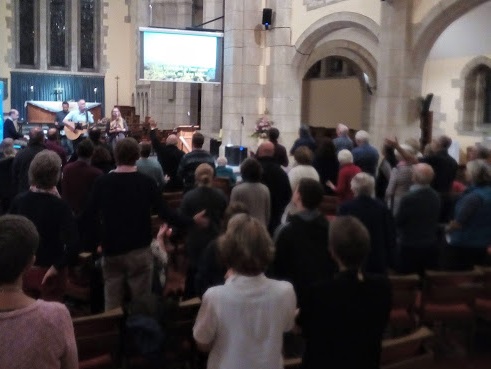 Members of Avonside Mission Area gathered for a prayer celebration on Wednesday 16 October.
There were 75 people present who followed the 4Ws of the Mission Area: Welcome, Worship, Word and Witness.They were welcomed by St Edyths, Sea Mills, who provided the hospitality.
Spirit-filled worship was followed by sharing the peace together, a reading, then sitting in mixed small groups whilst eating popcorn. We discussed how we would describe our faith in a sentence, what opportunities we had to share our faith recently and then prayed for more opportunities.
After the celebration, one person said: My willingness to talk about Jesus, share my faith and invite people to church events have increased since attending the early morning Tuesday evangelism prayer groups.
There were many encouragements across the Mission Area including increasing numbers of children joining the Kids Klub at St Marys Shirehampton; 17 people taking to the streets of Sea Mills, inviting people to a recent guest service; litter-picking in Lawrence Weston, resulting in prayer and chats with local people. The recent landfill banquet at St Andrews Avonmouth was a great success with 2,800 being raised for CAP, the foodbank and the homebank. People on the summer prayer walk prayed for the churches and communities of North West Bristol and felt blessed by it themselves. The Living Well Mission Community ran successful Mindfulness and Soulfulness workshops.
New missional communities have begun. One is running a Worship Central Course, while the Mental Awareness Group is working to reduce stigma in our churches to make them more accessible to people with mental health needs.
A person present at the celebration said the following week: I wasnt sure what ASMA stood for before the celebration, but I really enjoyed it and, as a result, when speaking to my new neighbour the following day, mentioned that I attended St Edyths church, which was the first time I have ever shared this.