Who are we and why are we here?
The Church of England has a strong legacy of providing education over hundreds of years. We aim to ensure that all children can experience 'life in all its fullness' through a high quality provision that enables them to flourish in all that they are and do. This is an education that is academically robust, distinctive in its care and inclusion of all, underpinned by Christian values that promote the development of character and opportunities for spiritual development. In such a system, school leaders and their staff will be well supported through the work that we do.
The Church of England Vision for Education 2016 'Deeply Christian: Serving the Common Good' underpins all our working through four themes. We are
Educating for Wisdom, Knowledge and Skills;
Educating for Hope and Aspiration;
Educating for Community and Living Well Together; and
Educating for Dignity and Respect.
https://www.churchofengland.org/about/education-and-schools/vision-education
There are 72 CE schools in the diocese across Bristol, South Gloucestershire, North Wiltshire and Swindon: 69 primaries, 3 secondary. The education team also work with non CE schools, colleges and higher education institutions.
What is the Diocesan Board of Education (DBE)?
The DBE is a statutory but unincorporated body of the diocese answerable to the bishops.
Council and Diocesan Synod. It establishes the direction and key purposes of education work in the diocese. It acts as the governance structure to ensure the effectiveness and distinctiveness of the Diocesan Education team and align activity to the national Church of England Education Office and other Bristol diocese teams.
The new board beginning in September 2019 has a three year term of office. It meets four times a year with committees with delegated powers. All members serve corporately for the good of all children and young people, not serving personal interests.
The Diocese of Bristol Diocesan Board of Education is keen to build and maintain excellent relationships across the whole family of church schools, regardless of the organisational structure of individual or groups of schools, such that it has equal confidence in all Local Authority schools (voluntary controlled and voluntary aided), Multi Academy Trusts (MATs), and Single Academy Trusts (SATs).
This is a requirement of the current DBE Measure (1991) where the functions of a DBE include:
to promote or assist in the promotion of education in the diocese, being education which is consistent with the faith and practice of the Church of England;
to promote or assist in the promotion of religious education and religious worship in schools in the diocese;
to promote or assist in the promotion of church schools in the diocese and to advise the governors of such schools and trustees of church educational endowments and any other body or person concerned on any matter affecting church schools in the diocese;
to promote co-operation between the Board and bodies or persons concerned in any respect with education in the diocese.
There is work to be done to build strong partnerships with some schools and groups of schools, whether LA maintained or in the academy sector. As part of this endeavour, the Diocese is keen to ensure that the Christian distinctiveness of all CE schools is protected and schools can act as salt and leaven within their wider school communities.
The Education Team
Through the Education Team, the DBE oversees and supports the work of all 72 of the Church of England schools in the diocese. Among these 72 schools, we have Voluntary Aided Schools, Voluntary Controlled Schools, and Academies. The academies are either Single Academy Trusts, or one of a number of schools within a Multi Academy Trust.
The Education Team is staffed as follows:
Director of Education Liz Townend
Schools Adviser Katy Staples
(SIAMS, RE, Collective Worship, SMSC and Christian Distinctiveness)
Schools Adviser Laura Harris
(SIAMS, RE, Collective Worship, SMSC and Christian Distinctiveness)
Schools Officer Clare Stansfield
(Governance and Admissions)
Team Co-ordinator Ali Driver
Administrator Elaine Jones
Q: What is a Church of England school?
A: Before the government became involved with providing education for everyone in England, there were church schools and other charitable schools. When the state became involved with providing mass education, church schools became integrated into the education provided by the state. The purpose of a Church of England school is to offer a spiritual dimension to the lives of young people, within the traditions of the Church of England. In collaboration with others, it contributes to ensuring a high quality education including a broad and balanced curriculum and high standards for all pupils, thus promoting 'life in all its fullness'. The ethos of a school can be strongly influenced by its Christian foundation.
Q: Does the Diocese of Bristol run schools?
A: No, but it aims to support Church of England schools within the diocese, particularly in relation to Religious Education, Worship, Christian ethos and Governance. Church of England schools must seek advice or consent from the board in certain circumstances, for example, before making alterations to the school, appointing a headteacher or considering a new governance model, including academisation.
Q: What is the role of the diocese in relation to Church of England schools?
A: The Diocesan Board of Education and the Education Team have a role in overseeing and supporting church schools. The provision of education must be in accordance with the tenets of the Church of England. Therefore, in a Church of England school, and dependent on its VA/VC foundation, including academies, at least one member and often more, of its governing body is appointed to represent the interests of the Church of England.
The DBE with its education officers appoint, train and advise foundation (church) governors as well as full governing bodies. They provide guidance on local, national and church issues, including consultation and guidance for school admissions.
The board and team work closely with LA and academy trust officers and governors to support the education to all pupils and young people.
Q: What role does the Diocese play in the Statutory Inspection of Anglican Schools (SIAMS or Section 48) process?
A: All Church of England schools are inspected to ensure that they are taking their foundation seriously and are running as a church school. This inspection process is funded by the DfE, and organised in partnership between the Church of England Education Office and the diocese. The administration for the process is mainly organised by the diocese. The diocese will organise the dates and allocate the appropriate inspector and inform the school. Inspectors are independent and all reports are quality assured by a critical reader. The diocese is responsible for ensuring high quality training and support to ensure that schools are fully equipped for their inspection.
A new and more rigorous SIAMS inspection schedule is now underway since January 2019. From the eight diocesan schools inspected so far, it appears to be bringing increased consistency across inspections. Advisers report strong levels of Christian distinctiveness as a diocese due to engagement in high quality training and bespoke work with individual and groups of schools. Read more here.
Q: Does the diocese get advance notice of Ofsted inspections?
A: No. Both SIAMs and Ofsted expectations are vitally important in CE schools, measuring different aspects of a high quality education in a CE school.
HMCI Amanda Spielman comments: "There are two linked themes that run all the way through the framework; the substance of education, and integrity. We are proposing an evolutionary shift that rebalances inspection to look rather more closely at the substance of education: what is taught and how it is taught, with test and exam outcomes looked at in that context, not in isolation." Read more here.

Q: What is the relationship between the DBE and DoBAC?
A: The Diocese of Bristol Academies Company, DoBAC is the Umbrella Trust for single and multi academy trusts in the Diocese of Bristol. It exists to oversee due diligence and academisation processes, to offer support, challenge and monitoring of key aspects of the work of those Church of England schools that are academies (and therefore no longer under the control of the local authority). Currently, there are two MATs, one with 14 CE schools (DBAT), one with two CE schools (CST) and six SATs.
In current policy, the DBE exert no pressure on schools to academise where they are already effective. CE schools that wish to academise or receive a poor Ofsted rating and are advised to academise by the Regional Schools Commissioner's Office (RSC) – our local link to the DfE – must enter MATs with CE governance at all levels (Main and Local Boards, Directors and Members). This is in line with their original foundation (VC/ VA) and with the number of CE schools or number of pupils being educated in CE schools in the majority in a MAT. There is agreement from the bishop's staff to look once again at this policy to consider an update in light of our rural and small schools capacity, alignment with neighbouring dioceses and the National Memorandum of Understanding.
Q: What is the relationship between the DBE Education team and the academies?
There are two multi academy trusts with church schools in the diocese and several single academies.
Whether church schools are single academies or part of a MAT, they remain a valuable part of the DBE family. The DBE team serve all CE schools regardless of their leadership models. They also serve a number of non CE schools too, particularly but not exclusively in their work through SACREs.
Structure
The structure of the various roles for schools in the diocese is as follows. DoBAC acts as a corporate member for most SATs and MATs. The arrows do not imply responsibility above that given in the DBE Measure.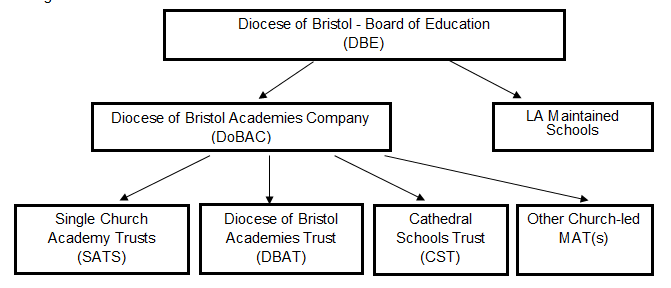 Here are some of the projects the DBE and Education Team are currently involved in, enhancing their governance, Christian distinctiveness and school effectiveness roles
Church School Partnership – awarded to schools to celebrate strong working relationships between church(es) and schools, including PCC, congregations, mentors, staff etc, not just incumbent/headteacher
Church – School/College Mentors – trained mentors delivering bespoke pastoral and curriculum support to schools
WIRE award – awarded to schools for Widening their Inclusion in RE, such as participating in diverse school visits to places of worship
Understanding Christianity – training in a comprehensive RE scheme to develop theological literacy in the teaching of Christianity in all CE schools
Relationships, Sex and Health Education national guidance – online publications and training for the Church of England and a scheme of work for all schools
Wellbeing and other resources – written to support schools in delivery through covid
DBE Measure 1991 – changes and updates
Standing Advisory Council for Religious Education (SACRE) collaborative projects in all four LAs
Education Foundations grants from the diocesan fund to schools for capital works
Q: Where are DBE going in our future education policy?
The diocese os currently undergoing a 'Transforming Church' engagement exercise to develop the strategic direction of all diocesan activity, including work with schools. Our DBE overall direction needs to remain aligned and the current education strategy is being revised to align with this timetable.
The CE Vision for Education and national 'growing faith with churches, schools and families' are key to this.