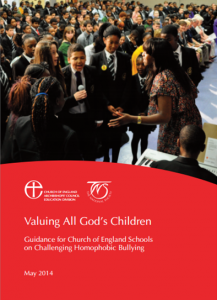 The Archbishop of Canterbury has today launched a report from the Education Division of the Church of England called
Valuing All God's Children: Guidance for Church of England Schools on Challenging Homophobic Bullying.
The guidance, which is being sent to all Church of England schools, provides 10 key recommendations which should be adopted by schools in combating homophobic bullying as well as sample policies for primary and secondary Church schools.
Published by the Church Of England Archbishop's Council Education Division, the guidance involved consultation and involvement with a number of Church of England schools with existing good practice. The Rt Revd Justin Welby said:
"Less than a year ago I set out my concerns about the terrible impact of homophobic bullying on the lives of young people and I made a public commitment to support our schools in eradicating homophobic stereotyping and bullying.
"Since then an enormous amount of work has gone into producing this guidance so that commitment can be turned into action. I am extremely grateful to all those who have worked so hard to produce it and I particularly want to thank the schools and young people who have contributed.
"Church schools begin from the belief that every child is loved by God. This guidance aims to help schools express God's love by ensuring that they offer a safe and welcoming place for all God's children. This is a task we are called to share and I know it is one our schools take immensely seriously. I commend this guidance as a contribution to that work."
Katy Staples, the Diocese's schools advisor for RE, Collective Worship and Christian Distinctiveness was personally asked to produce the guidance.
Read Valuing All God's Children online here