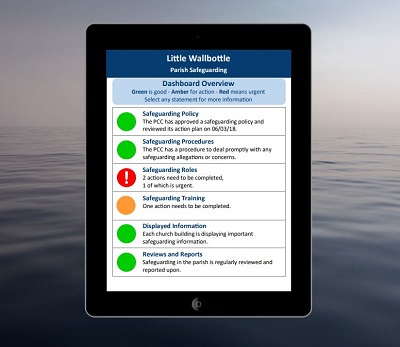 The Diocese of Bristol is always looking for ways to help Parishes improve their safeguarding arrangements. Previously we have undertaken an annual audit process to enable Parishes to keep track of their progress locally and identify areas which they need to pay more attention to. The audit process did have its limitations and we have therefore signed up to a free online tool called the Parish Safeguarding Dashboard. This will make it easier for PCC members, Safeguarding Officers and others to manage and keep track of their Parishes safeguarding arrangements.
In addition the Parish Safeguarding Dashboard will also enable the Diocesan Safeguarding Team to provide more effective support to Parishes and ensure that each parish is meeting the requirements regarding its safeguarding administration.
The online tool has been designed to display a clear and simple dashboard on a mobile phone, tablet or computer (as can be seen from the image above).
The home page allows the Parish Safeguarding Officer, Clergy, Churchwardens and other authorised users to see the current status of compliance with safeguarding guidance at a glance. A green light would mean all is well, amber would mean that action is needed and red would mean urgent action was needed.
This Safeguarding Dashboards for Parishes document outlines how the safeguarding dashboard can help your parish.
The advantage for parishes in using the dashboard is illustrated in this short video…